Siggi Loch lets us know why he got a special bond to Swedish jazz music.

Over the past 22 years German record label ACT has championed an incredible array of jazz artists who are defined by their desire to push musical boundaries while reaching out to a wider audience with both authenticity and innovation at their core. We asked Siggi Loch, the founder of ACT, about his thoughts on Swedish Jazz. And here is what he told us.

How hot is the Swedish jazz scene in Germany?
First of all, Nils Landgren continues to be the most successful ACT artist in the history of the label, and is most probably the most popular Swedish Jazz artist in Germany. Our collaboration and close friendship have led to over 750.000 records sold until this day. And it was in Germany, namely the JazzBaltica festival, where Nils's career began as a performing artist – the festival that he is now producing and directing. Through Nils I met the unforgettable Esbjörn Svensson and the fame of his tio is everlasting. In addition to its huge success, you can hear the band's influence on a whole generation of jazz musicians today. And you could continue the list of successful Swedish jazz musicians in Germany starting with Jan Johansson and Bobo Stenson but ACT is still the home of the most shining Swedish Jazz Stars.
Which Swedish jazz artists are on the ACT roster right now?
Dan Berglund / Tonbruket, Lars Danielsson, Rigmor Gustafsson, Nils Landgren, Jan Lundgren, Magnus Öström, Ida Sand, Viktoria Tolstoy and Ulf Wakenius.
How does the German jazz fans consume their favorite music?
As we all know, there's a lot of change going on in the way people listen to music. In contrary to the Scandinavian countries where the share of physical music sold is less then 20% and streaming takes the rest and is generating only marginal income for the artists and right owners, the share of physical records sold in Germany is still 70% of the market. The remaining 30% are download and streaming. Unfortunately the trend goes toward streaming as well except in a lower speed.
Siggi Loch, you are the founder of ACT and received in 2010 a conferred knighthood from the Swedish king, Carl XVI Gustaf, in recognition of ACT's promotion of Swedish jazz internationally. Where does this special bond to Sweden come from?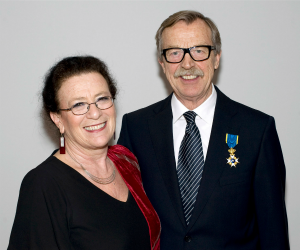 Of course this was a big honor. And again, for my label ACT it all started with Nils Landgren at the JazzBaltica Festival 1994. I was instantly blown away by him playing as a trombone virtuoso but equally impressed  by his personality. It was the start of a friendship for life. Through Nils I came in contact with many other musicians of the Swedish scene – first and foremost Esbjörn Svensson as he was the keyboard player in his first "Funk Unit". But my personal love affair with Swedish Jazz begun 1962 when I was a regular visitor of the NDR Jazzworkshop in Hamburg and was listening to artists like Jan Johansson, Georg Riedel, Ake Persson, Eje Thelin and many others. In 1964 I visited Stockholm for the first time and met Göte Wilhemsson who introduced me to Bengt-Arne Wallin´s "Old Folklore in Swedish Modern". Back in Hamburg – and in my capacity as the Philips label manager for Jazz – I released the album immediately in Germany and re-released the album on my own label ACT in 1997.

Photo 1, Siggi Loch in 2010. Photo by Barbara Eismann
Photo 2, Nils Landgren and Siggi Loch at the 2012 ECHO Jazz ceremony. Photo by BVMI / Nass.
Photo 3, Ruth Jacoby (Swedish ambassador) and Siggi Loch. Photo by Anja Grabert.