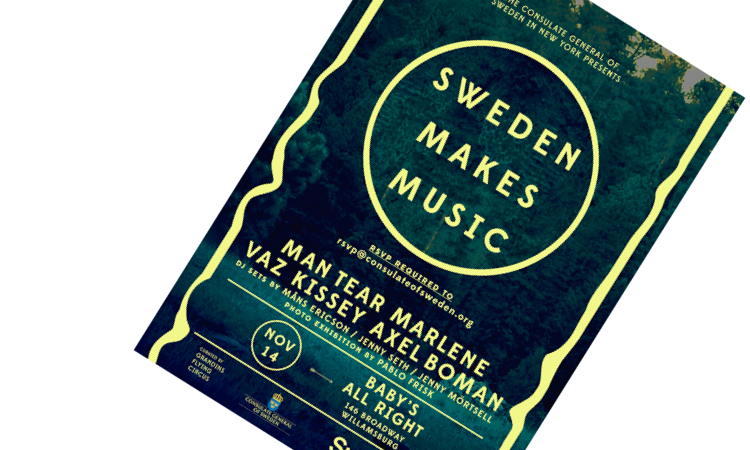 Export Music Sweden åker till New York den 14 november för Showcase på Baby's All Right i Brooklyn.
The Consulate General of Sweden in New York presents an exclusive music event showcasing Swedish creativity at the new venue Baby's All Right in Brooklyn on Thursday, November 14.
(RSVP required to rsvp@consulateofsweden.org)
Curated by the Swedish brand experience agency Grandins Flying Circus, the evening will feature live shows by disco-pop act Man Tear; electro-popstress and singer-songwriter Marlene; sister pop duo Vaz; electro-soul artist Kissey; and house music DJ and producer Axel Boman.
Sweden Makes Music will also feature DJ sets by Måns Ericson, Jenny Seth and Jenny Mörtsell, as well as a special exhibition of photographs by Pablo Frisk.
The event is supported by the Swedish Institute and Export Music Sweden.
> http://swedennewyork.com/makesmusic
> Man Tear: http://store.dfarecords.com/products/dfa2354
> Marlene: http://www.facebook.com/MarleneForEver
> VAZ: http://www.vazofficial.com/
> Kissey: http://kissey.co/start
> Axel Boman: http://soundcloud.com/axelboman
> Måns Ericson: http://www.rollerboys.se/
> Jenny Seth: http://rodeo.net/jenny-vanner/
> Jenny Mörtsell: http://twitter.com/Jennymortsell
> Pablo Frisk: http://www.pablofrisk.com/
> Grandins Flying Circus: http://gfc.nu/
> Consulate General of Sweden in New York: http://swedennewyork.com/
Kategorier: ExMS
Taggar: Musikexport, USA