Discovery Sessions: The Brazilian Music Market
May 25, 2022
Online
Discovery Sessions is a new concept by Nomex where you can discover new and emerging markets with key industry figures from around the globe. The nordic export offices will take turns researching and presenting new markets to the nordic music industry.
In this Discovery Session you will get a general overview on the Brazilian consumer market, as well as a glimpse into the music industry including live, label, PR and how to establish fan engagement in the market from our Nordic homes.
The Discovery Session is composed of two talks and one panel with various professionals in Brazil, and is open for all to attend.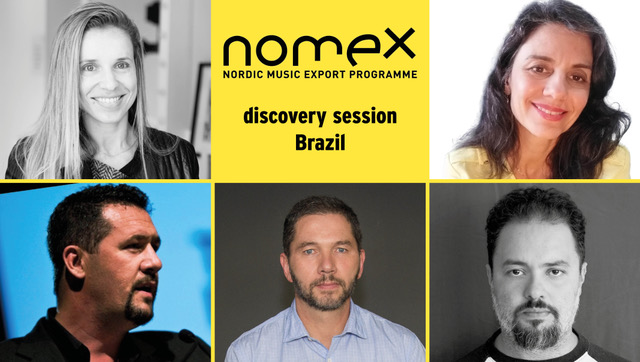 Program

Times are
CET
13:00 – 13:30
General overview of the Brazilian Music Market
Speaker:Luciana Pegorer
13:30 – 14:15
Establishment. How to build a fanbase in Brazil from other side of the world?
Speaker:David McLoughlin, Head of Horus Music Brazil/ Founder of Brasil Calling
14:15 – 15:15 (45 min talk + 15 min Q&A)
Local activity and building a team
Moderator: Luciana Pegorer. Speakers: Alexandre Wesley, Director of Shows, Festivals and Brand Relations at Som Livre, Thiago Endrigo (Elemess), Founder and partner of TEJA, and Cris Garcia Falcão, Managing Director Ingrooves Music Group Brazil
Sign up at the bottom of this page and get a link to the zoom meeting.

NOMEX Discovery Sessions Brazil is produced by Music Norway.