We had a chat with four Swedish artists making classical and contemporary music who all are going to Rotterdam this weekend to preform during Classical:NEXT!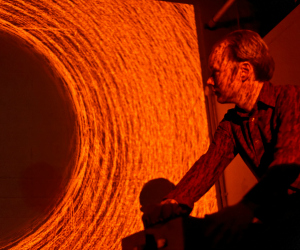 Fredrik Olofsson is a programmer, video artist and composer who lives in Berlin. The past ten years he worked with the color red. For the next ten years he will work with green, followed by blue. This is to force change in his practice. His art is thorough and uncompromising, whether he performs solo or writes for other musicians.
Could you tell us in short what your music sounds like.
It could roughly be described as lots of noisy electronic sounds. Though most often my sounds have corresponding graphics and I am more trying to create audiovisual compositions where what you see and hear are of equal importance.
The piece you are preforming with in Rotterdam is written by you for the horn player Sören Hermansson. Why him?
Sören contacted me and asked if I would like to do something specially for him. Of course I felt very honored and said yes. I knew of his remarkable horn playing since the mid-90s. And it turns out he is not only a virtuoso on his instrument, but also a warm and wonderful person.
What are you trying to tell us through your music?
Nothing. I put trust in that the audience make up their own meaning. And the more these differ from my ideas the better.
You have performed all over the world. Is the music received in different ways depending on where you are?
Of course every concert is special, but I can not say it matters much in which country I am performing. Experimental music scenes are similar all around the globe – people in search for out-of-the-ordinary sonic experiences.
Find out more about Fredrik Olofsson here >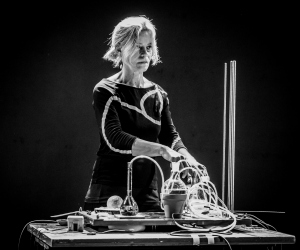 The Swedish sound artist and composer Hanna Hartman creates compositions that are exclusively made up from authentic sounds which she has recorded around the world. Hanna seeks to reveal hidden correspondences between the most diverse auditive impressions and in new constellations she creates extraordinary worlds of sound.
Where does your deep interest in sound and music come from?
Curiosity
As an sound artist we have seen you preform in extraordinary ways, like blowing air from your mouth into bottles with water using plastic tubes. What is left to try?
That's a secret.
What's your expectations on preforming in Rotterdam?
New meetings.
In what way would you like to affect your audience with the music you create?
Once after a concert a seven year old girl told her mother; that's what i want do when i grew up!
Find out more about Hanna Hartman here >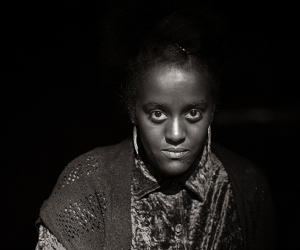 Sofia Jernberg is a Swedish soprano, voice- artist, improviser and composer. Jernberg is the leader (with pianist Cecilia Persson) of the chamber jazz group Paavo. She is also active in the contemporary classical music scene, where she serves as both singer and composer.
Do you think your experiences from living in Sweden, Norway, Ethiopia and Vietnam have affected your music?
Yes! Especially during my childhood. When living in Hanoi during the beginning of the 90-ties we didn't have access to TV or radio from Europe or America. The music I came in contact with was mainly traditional vietnamese folk music.  It's not easy for me to judge in what way that has affected the music I do today, but it surely affected me then.
You have a deep interest in the voice as an instrument. Do you work with your own voice in any special way?
When singing in a group (without lyrics) I try to place the voice in such a way that it doesn't stand out or becomes soloistic but instead blends well with the ensemble sound. This is something I have to work with actively in every situation because the conditions change all the time; combination of instruments, the way they play them etc.
In my solo voice work I concentrate on making music that contradict the preconception of the voice and how it "should" sound. For example I camouflage my breathing, using inwards singing, to be able to make a piece of music with no pauses. I also work with techniques that split the voice in several pitches/sounds. I do this in order to sing multiple pitches/sounds at the same time and create several layers.
Whats your expectations on preforming in Rotterdam?
I'm looking very much forward to it all! Hopefully meeting some new people and to hear music I never heard before. Very happy to be a part of the Swedish program this year.
Find out more about Sofia Jernberg here >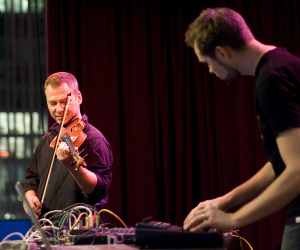 George Kentros was born and raised in the US but now lives in Sweden. He has performed as a chamber musician, soloist, and sometime actor across Europe as well as in the US, Central America, and Japan, primarily with the new music ensemble "the peärls before swïne experience." When not practicing scales, writing theater music, or touring, he produces a semi-weekly avant-garde club in Stockholm.
You have together with Mattias Petersson created the music project There Are No More Four Seasons. Where did the seasons go?
They still exist, but in a different form than they did in the 1700s. They are broken up, most of the Western world travels, has color TV and central heating, you can ski in July and sunbathe in December. And the seasons they are a-changing, primarily due to the environmental damage that all this does to our planet. So although we love the original piece, it feels almost irresponsible to perform it without taking all this into account.  
Tell us more about your link to Vivaldi. 
Vivaldi was the coolest composer of the early 1700s. The red-haired priest with an all-female orchestra, writing music with organically eccentric forms– I've always sort of pictured him as being a bit like Johnny Rotten. In any event, it's impossible to be a classical violinist without knowing the Four seasons intimately. And even if you're not a violinist, you know all about the piece from when you travel in an elevator or go shopping. So my link to Vivaldi is through knowing and absolutely loving the music while feeling depressed about the way it's treated nowadays. It's become something other than what it was from the beginning. This idea has inspired all of our recompositions– an attempt to show what we hear when we hear the pieces, which can often be something other than what the music world wants us to hear. 
What's going on in the Swedish contemporary music scene right now? 
The Swedish scene is extremely vital, paradoxically right when state support is at a nadir. The electronica, some of the under-forty composers, the laptop and techno scenes are all at a really high level. Since we feel like we are quite far away from where things are "happening", we overcompensate to make sure that what we do is good enough. And when I travel around Europe, the US and Japan, I really don't hear much that is close to the same level. The Sound of Stockholm festival, which mixes composed music with free improv and electronics, is one of the better art music festivals in the world in my humble opinion, and I think Sweden as a whole is ahead of the curve when it comes to this mixing of genres, most likely because since we are such a small country, we all know one another and there's no real point in not collaborating. 
What's your expectations on playing in Rotterdam?
After we play, I want the audience to feel like there is more to the world than they thought before. And I expect to find some other people at C:N who are happiest when that happens.