It's time for Tokyo! During 19-21 nov we are introducing Nordic music to the Japanese market. With us we have Swedish songwriter Ana Diaz and metal band Nitrodive.
Hokuo Music Fest is a collaboration between the Nordic countries to present Nordic music to the Japanese market in Tokyo. The initiative started in 2013 and have been a success since. The Japanese market is the second largest in the world and our local partner, Creative Man, arrange most of the larger international gigs in Japan and some of the largest festivals such as Loud Park and Summer Sonic.
During our trip to Tokyo we will among other things participate in a trade day in the center of the famous Shibuya district, a central location for the Japanese music industry. Last year over 50 Japanese professionals participated to meet the Nordic music companies. All Nordic companies will get their own fair table in order to promote their products. The day ends with a reception at the Embassy of Sweden.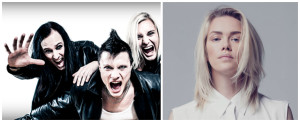 We are also taking part in bringing Swedish music to Japan! Swedish metal band NitroDive will play at the Loud and Metal Mania showcase and Swedish songwriter Ana Diaz will join the songwriter session at Hokuo Music Fest.