Read two interviews with the Swedes at the World Music Expo.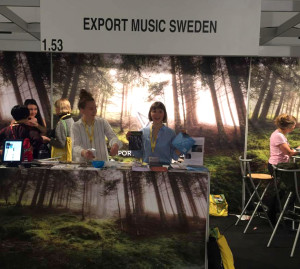 Here we are at the Swedish stand at Womex 2016, promoting all the Swedish folk- and world music artists and industry people on site.
We asked our folder cover stars The Nordic Fiddlers Bloc some questions, see the band member Anders answers below who just came back from a US tour.
We also chatted with Eva Omagbemi from Mix Music, who won promoter of the year at the Swedish Folk-and World music gala earlier this year.
Hi Anders, tell us a little bit about how you started "The Nordic Fiddlers Bloc".
I met Kevin at a festival in Norway called the Rauland Vinterfestivalen and we hung out and jammed during the weekend and had great fun playing music. I play in a band called Sver with Olav so obviously knew Olav from that and we just had an idea of mixing the 3 different styles and presenting them in a new way.
We were intrigued with each others traditions and styles and thought it would be interesting to mix them. Its not something thats really been done before as far as I'm aware in terms of Shetland, Norwegian and Swedish music being mixed together in the way we do it. We have a lot of fun with it.
What do you have going on right now?
We have just returned from 2 and a half weeks in the US touring around the country which was great. We have been over a few times now and want to get to the stage of regularly touring 2 or 3 times a year there. Its a building process at the moment to try and gain a following and so far there has been a lot of interest in what we are doing and the gigs have been very well attended and received which is great.
We head to the UK next week to tour for about 2 weeks so we are really looking forward to that. We are touring there a couple of times a year and thats going well. Both the US and UK are great places to tour and the audiences are very appreciative towards what we are doing.
Next year we will head back to the US in March/April and also to the UK in May for tours. We are also in the process of thinking about material for the third album so that will be interesting to see what direction we take with that!
Its exciting times with new things happening all the time which keeps it interesting. We would love to get to Asia and out to Australia for example as there have been a few folk saying we would go down well there so fingers crossed we get the opportunity to do that at some point.
What made you become interested in folk- and world music? 
Common sense. 
You are releasing a new album "Deliverance" this year – how does it differ from your first album?
I think the new album differs in a couple of different ways really. The material on the first album was largely traditional tunes with an equal spread of music from each region whereas most of the tunes on the new album are newer compositions with a large number composed by Olav.
We also went into the music a lot more I think in terms of arrangement ideas. We spent a lot of time on some of the tunes before we were happy. It was a longer process than the first album.
Hi Eva! Tell us a little bit about "Mix Musik".
Mix Musik is a concert promoter in Malmö since 1995. Our concert program includes local, national and international artists. The aim is to cover large parts of the musical world and highlight music that has difficulty to penetrate the media noise. Mix Musik is a stamp of quality for the audiences.
We organise approximately 15 concerts a year and the season is from end of September until beginning of May. The programming is a mix of international and national groups, in different venues in Malmö and we always aim to book as much female as male artists.
In 2016 Mix Musik got the award "Promoter of the year" at Folk- och World Music Gala.
You received "Promoter of the year" at the Swedish "Folk- and world music gala", congratulations! – what does this price mean for Mix Musik?
 To receive the award Promoter of the year is first of all a recognition of our work, from the music industry. We also got a lot of attention from colleagues, media and of course our audiences and we feel proud of our work.
What are you looking for when you are creating the concert program?
We program in venues with a capacity from 180 – 500 seats and we look for groups that are up and coming, and groups that just has started there international career. We also program international well known artists, one or two each year. The program is broad in that sense that we want to create an image of the musical world outside the Western.
Tell us more about your collaboration with the artists Aida Nadeem and Liliana Zavala.
 In 2015 Aida Nadeem contacted us and proposed a collaboration. She is an Iraqi artist living in Sweden and her proposal tickled our desire to develop the business. We made a production with her in spring 2016, "Iraqi art in diaspora" and now it will tour.
It's the same with Liliana Zavala, an Argentinean musician living in Sweden, we will produce her release tour in Sweden and in Argentina 2017. Mix Musik can be a support for musicians living in Sweden to facilitate their work and helping them finding ways to realise some of their dreams.
Do you have something exciting going on this fall?
We've had a wonderful concert with the Haitian group Chouk Bwa Libète, which we saw at last years Womex showcase. It was an acoustic concert and everything was very organic. We will have the fabulous Mahotella Queens and two Swedish groups that wanted to celebrate their 10th and 20th jubilee with us, Sousou & Maher Cissoko and Östblocket. This is a typical mix of groups for our program.